Venus Pearl Plt Bundle Kit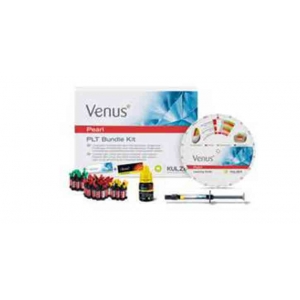 Product Information
Purchase Price (inc GST)
$263.26
| Quantity | Price (inc GST) |
| --- | --- |
| 1 | $263.26 |
Product Description
Venus® Pearl – Beauty beyond aesthetics.
Acquaint yourself with the new standard of care. The nano-hybrid composite Venus Pearl completes the natural colour concept and the excellent physical properties that have already been offered with Venus Diamond. It delivers a soft consistency during modelling. The secret to Venus Pearl's greater malleability is the adapted filler system.
66065931 Venus Pearl PLT Bundle Kit + iBOND Universal.
Content:
10 x 0.2 g PLTs each of the shades A2, A3, HKA2.5, OMC, CL
1 x 1.8 g syringe Venus Diamond Flow of shade HKA2.5
1 x 2 ml bottle iBOND Universal
Venus Pearl Layering Guide, Pictorial Cards.

Your aesthetic restorations are the secret behind your patient's smile.
•Easy and convenient handling: Venus Pearl combines a creamy consistency and minimal stickiness with simultaneously exceptional high sculptability. It offers an extended working time and is perfect to model and polish.
•Outstanding physical properties: The material combines high flexural strength with minimal shrinkage stress. You obtain long-lasting, aesthetically pleasing restorations with a permanent, natural lustre.
•Impressive aesthetics: Venus Pearl offers a wide range of shades and can be applied in single- and multi-shade layering techniques. The material adapts perfectly to the colour of the surrounding teeth, creating an outstandingly natural look.