Bactol Clear 500ml Bottle Antibacterial Hand Rub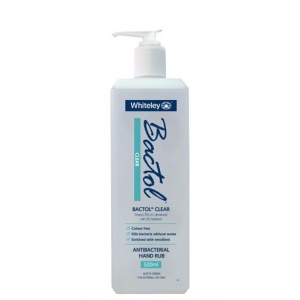 Product Information
Purchase Price (inc GST)
$16.94
| Quantity | Price (inc GST) |
| --- | --- |
| 1 | $16.94 |
| 12 | $15.73 |
Product Description
Bactol® Clear
Enriched with emollient

Kills bacteria without water

Colour free
Bactol® Clear is an antibacterial hand rub that kills bacteria without water. Bactol® Clear is colour free and pH balanced, leaving skin
feeling soft and refreshed.
Formulated with natural emollients to maintain skin integrity and prevent moisture loss leaving your hands hygienic, soft
and replenished.

Meets the recommendations of the National Hand Hygiene Initiative – EN 1500 compliant.

It is formulated with an alcohol concentration of 70% Ethanol v/v, as recommended by WHO for maximum efficacy.*.
AUST R: 335834
Y012132 Bactol Clear Antibacterial Hand Rub
500ml bottle