Coricama Chisel Ochsenbien #4 Double Ended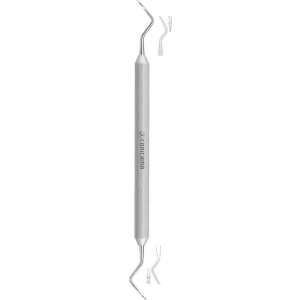 Product Information
Purchase Price (inc GST)
$41.98
| Quantity | Price (inc GST) |
| --- | --- |
| 1 | $41.98 |
| 3 | $38.48 |
Product Description
CORICAMA since 1873.... ITALIAN STYLE and ADVANCED TECHNOLOGY
CORICAMA use only the most suitable steels for the production of surgical instruments to achieve instruments that are both aesthetic and functional.
CORICAMA is a guarantee of high-quality instruments that perfectly fit to the professional sensitivity and contribute to patient well-being. CORICAMA is constantly next to the more demanding dentists and those who seek only the best for their work.
CORICAMA CHISEL OCHSENBIEN #4 DOUBLE ENDED #251570
Used for reshaping bone and to remove flaps.
For the removal of supra-gingival calculus, for splitting tooth enamel. For smoothing and sharpening preparation walls.
The chisels are used with a push movement.
Designed to fit and reach the interproximal spaces to be treated. Blade/curring edge with different angles and curvatures relative to the shank.
Rectangular cross section and sharp blade for easier removal of heaavy supra-gingival calculus.
Instrument Name: Chisel Ochsenbien #4 Double Ended #251570
Tip Material: Stainless Steel
Handle: Mod. Smooth 8mm Single-Ended
Handle Material: Stainless Steel